To make a full backup of the content located in BeatMaker 3 on your iPad or iPhone, follow these steps:
Plug your iPad/iPhone to your computer using an USB cable
Launch iTunes. If you're on Windows, get it here
Your device might ask you for confirmation ("Trust this computer")
In iTunes, locate the small "device" icon on the top left of the window and press it:

From the device view, press "Apps":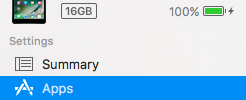 On the right, under "File Sharing", locate BeatMaker 3
Create a new directory on your desktop and anywhere you like
Select all files from BeatMaker 3 and drag'n'drop them to your newly created directory:

This can take some time so be patient. At anytime, you can see the current progress on the top iTunes toolbar.
You're done! 👏