A combination of effects can be applied on individual banks, tracks and pads. While BeatMaker provides dozens of built-in effects, it is also possible to load your own external Audio Units plugins and IAA/Audiobus applications.
Quick links :
- How to load an effect onto a pad
- How to use the MVerb reverb effect
1. Overview
To open the FX panel, press the following button from the main left toolbar:

The FX panel displays the effects loaded on the current track or pad. To select another source, press the Bank selector button at the top of the panel. Two options are available to control the behavior of the currently displayed effect chain:

Pads icon: If activated, triggering a pad also automatically displays its effect chain. Deactivate it by pressing this icon if you do not want the effect panel to follow pad triggers.
Lock icon: Lock the display of the FX panel to the currently selected track or pad. If activated, selecting another track or pad within BeatMaker will not change the content of the FX panel.
To add a new effect, press the "ADD EFFECT" button. A menu lets you select which effect you want to load: you can choose between one of the many built-in effects or an external Audio Units/IAA/Audiobus.
Any effect can be bypassed: you can deactivate and reactivate it at any time. To do so, press the power button (green is enabled, red is disabled):

By pressing the 3-dots button on any effect title bar, a menu displays more options for changing the order of the effect, saving a preset or to delete it: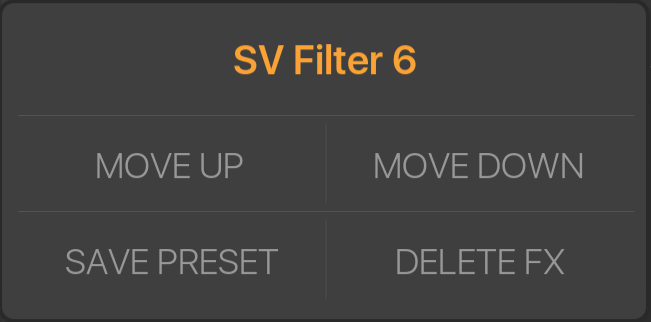 The effect panel can be scrolled vertically to navigate through your effect chain.
Note: The "Reverb" effect is the same reverb found in BeatMaker 2. An improved reverb is also available: "MVerb".
For further information on using effects, please read the following articles:
- How to load an effect onto a pad